Drone Photography Indianapolis
Drone photography has become increasingly popular in recent years, and for good reason. The unique perspectives and stunning images that can be captured with drones make them an invaluable tool for businesses of all types. Whether you're looking to showcase your real estate properties, capture aerial footage of a special event, or create 3D maps of construction sites, finding the right drone photography business service is key. Here are some tips for finding the best drone photography business services in the Indianapolis, Indiana area.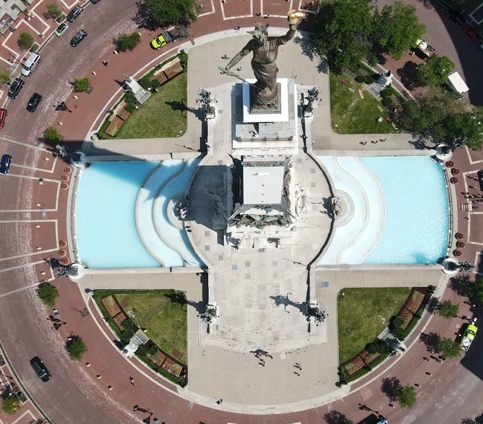 Look for Experience
When it comes to drone photography, experience is everything. Look for a drone photography business service that has been in business for several years and has a track record of success. You want to work with a company that has experience capturing images and video from the air, and that can provide you with examples of their work.
At Indy Drone Video, we have been in business since 2021 and were listed in the top 1% for flight hours in 2022 by the popular drone company, DJI!
Check for Licensing and Insurance
Make sure that any drone photography business service you consider is licensed and insured. This is important for several reasons. First, it ensures that the company is operating legally and following all applicable regulations. Second, it provides you with protection in the event that anything goes wrong during the shoot.
At Indy Drone Video, we are fully licensed with our Part 107 FAA certification and we offer $1,000,000 insurance per incident.
Look for Specialization
Different drone photography business services specialize in different areas. Some may focus primarily on real estate photography, while others may specialize in event photography or commercial marketing. Look for a business service that specializes in the type of photography you need. This ensures that they have the equipment, skills, and expertise necessary to capture the images you need.
Indy Drone Video specializes in real estate drone photography, marketing photos and videos, and orthomosaic 2D and 3D mapping.
Read Reviews and Check References
One of the best ways to gauge the quality of a drone photography business service is to read reviews and check references. Look for reviews on the company's website, as well as on third-party sites like Yelp or Google. Additionally, ask for references and reach out to past clients to get their feedback on working with the company.
At Indy Drone Video, we are happy to provide a list of previous clients so you can get reviews directly from them. We also have a perfect 5 star rating at Google!
Ask About Equipment and Technology
The quality of the images and video captured by a drone depends on the equipment and technology used. Look for a drone photography business service that uses high-quality drones, cameras, and other equipment. Additionally, ask about the technology used to process and edit the images and video. The more advanced the technology, the better the final product will be.
Indy Drone Video uses professional DJI drones, including the Mavic 3 Enterprise, Avata, and more.
By following these tips, you can find the best drone photography business service in the Indianapolis, Indiana area to help you capture stunning aerial images and video for your business needs.
At Indy Drone Video, we check all the boxes! Reach out for a free quote and pricing for drone photography and video in the Indianapolis, Indiana region.